The National Museum on Broad/Buchanan Street, Monrovia, housed in a 123-years old building, was the home of the Liberian Legislature, Supreme and Probate Court, and the Treasury. The Museum has historic and ethnographic collections including items formerly belonging to several presidents, photo and map collections and archaeological materials.

Historic Providence Island, a tiny island between downtown Monrovia and the port, at the mouth of the Mesurado River, is spanned by the People's Bridge. It was the first landing site of the Founding Fathers of Liberia on 7 January 1822. Providence Island is now a place of amusement and recreation with a bandstand and amphitheater for traditional African music and dance. The "Museum of Indigenous Art" is located on Providence Island, exhibiting crafts from the region; famous Reed Dolls of Loma, handcraft carvings (sapwood, camwood, ebony and mahogany), stone items & soapstone carvings (fertility symbols from the Kissi and ritual masks from Grebo).

advert
HOTEL AFRICA
OAU Village
Virginia/Monrovia
Monrovia Sporting Club in Hotel Africa provides unbeatable options in recreation -entertainment -swimming pool, horse and boat riding, river and deep-sea fishing, tennis court, disco and casino.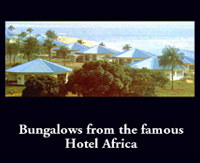 Hotel Africa
Mammals
More than 100 species of Mammals have so far been identified.
Birds
More than 200 species of Birds including eagles, kites and hawks have so far been identified.
Continuation of page 3

INVESTMENT INCENTIVES
GENERAL INVESTMENT INCENTIVES

Enterprises qualifying for investment incentives as defined above shall be entitled to:

Exemption from customs duties and stamp fees of up to 100% on approved imports of:

a) machinery and equipment,
b) spare parts,
c) raw and auxiliary materials,
d) building and construction materials.

Tax holidays.

Loss carry-over provision.

Accelerated depreciation of fixed assets.

Tax exemption of profits re-invested in fixed assets and exemption of the remaining profits of the enterprises from 50% of the income tax that would be otherwise payable.

Unrestricted repratiation of foreign investment and remittance of profits and dividents at any time.

ADDITIONAL INCENTIVES

SPECIFIC ADDITIONAL INCENTIVES

Small/medium Liberian-owned industries shall be entitled to 100% allowable benefits and excise tax redemtion.

Enterprises in the agricultural sector shall be entitled to 100% allowable benefits mentioned under Investment Incentives above.
National Flag: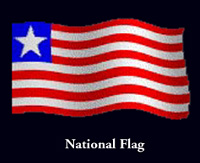 "The Lone Star"
Handcraft:
carvings from Sapwood, Camwood, Ebony & Mahony
Stone items: soapstone carvings (fertility symbols from the Kissi) and ritual masks
Batik clothing and tailored clothes
Juju: Black Magic
Natural Resources:
Plenty sweet water, Rubber, Palms, Exotic fruits, Coco & Coffee, Sugar cane, Uranium, Silica, Barite, Kyanite, Cement, Iron ore, Gold & Diamonds, Forestry, and enormous deposits of Clay.
National Seal: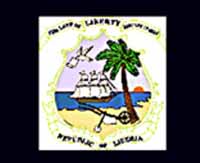 "The Love of Liberty brought us here"

Smell No Taste!: Robertsport area

National Soup: Goat Soup

National Sport: Football

Tardegai: Liberian music drum, played with a stick shaped like a hammer